OLESYA, A LOVER OF WINE AND LIFE.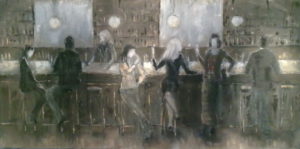 A SIBERIAN BEGINING
Born in the vast forested heart of Siberia in the city of Omsk, Olesya was raised in a country where the stifling Soviet regime reflected in the drab, bare shop shelves and lack of imports. Russians, though, are a resourceful people and many grew their own food in dachas in the vast Russian countryside. Olesya's very earliest memories are of her summers playing in her grandparent's dacha in the Siberian countryside.
SUMMERS AT THE DACHA
Siberian temperatures can go as low as the minus 50C in winter but the land bursts alive with animals, fruit and vegetables in blazing summers when the temperatures can soar to over 40C. Olesya's early memories are of fresh vegetables, fruits, mushrooms and berries – often eaten straight after they were plucked from the ground of her grandfather's dacha or from the surrounding forests. The dark, freezing winters were brightened by the juices and preserves her grandfather made from the autumn harvest.
KITCHEN TALK
In the Soviet Union the intimacy of the family home was a refuge. 'Kitchen talk' was the name given to conversations that in a less safe place could get one into trouble. In the Kitchen friends and family could relax and the preparation of food was an opportunity to indulge in creative free expression.
A CULINARY CROSSROAD
Despite its apparent isolation Omsk sits on a culinary crossroads of food influences as vast and diverse as the peoples of the 15 old Soviet Republics and six time zones.
A Mediterranean diet of olives, figs and dark red wines came from Soviet Armenia and Georgia and the influence can be seen in dishes like the rich, flavoursome Solyanka soup that Olesya serves in her Wine Bar – as well as being delicious it's a renowned "cure" for the day after the night before!
Siberia shares a common border with China and the Asian influence is seen in the traditional Siberian Pelmeni with their similarity to "Dim sum". There is a Scandinavian influence from the Baltic coast giving us the delicious Herring St. Petersburg which is a favourite at Olesya's.
CAVIAR; A CASPIAN LUXURY
When Olesya was a child the Caspian Sea was still teeming with sturgeon and her mother and grandparents would work extra hours to be able to afford huge jars of wild Caspian Beluga and Sevruga caviar which is almost unobtainable today although sometimes Olesya manages to get some in stock.
Red caviar is a popular less expensive alternative in Russia and features on Olesya's menu – it can be eaten on buttered bread or on blinis with sour cream. The large Jewish community in Russia ensured that many Jewish favourites such as knishes are common in Russia. Indigenous Siberian ingredients feature in borscht and in the wide array of Russian salads that are among the first dishes Olesya learnt how to prepare as a child. Fish, poultry and meat abound in the world's largest country – this is reflected in classic recipes such as Veal Orloff, Beef Stroganoff and Chicken Kiev.
A PASSION FOR FOOD
Olesya learnt how to cook the rich Russian cuisine at her mother's knee. A Siberian must never receive a guest without a table full of food and Olesya first adventures in food were as sous chef for her mother when gangs of friends and relatives would arrive hungry and thirsty. Russians share the Irish fondness for a social drink but drink must always be accompanied by food. Olesya's mother readily admits that the pupil soon surpassed the teacher and Olesya's table was renowned in her circle as the finest in Omsk.
AN ENTREPRENEURIAL SPIRIT
Olesya was one of the first to take advantage of the opening up of Russia. At age 16 she started her own business importing clothes from the West and expanded to own her own clothes boutique.
Olesya smiles when people discuss the Irish banking crisis. In the Russian currency crisis in the late 1990s the bank, where Olesya had saved all of her profits from years of business, simply closed. There was no bail put and no government guarantee. She lost everything.
A JOURNEY TO THE WEST
Olesya made a snap decision to accept a friend's invitation to join her in taking a job offer to work in a restaurant in what was described to her as a "tourist city" in Ireland, 6000km away – this is what brought her to Portumna, County Galway, that was ten years ago. Five years later she fulfilled her dream by opening Olesya's Wine Bar in central Dublin. Olesya's Wine Bar marries her lifelong love of food with her passion for wine.
A PASSION FOR WINE
Now in the west Olesya immersed herself in wine culture visiting wineries all over the world, passing her wine exams with distinction and, of course and most importantly, by tasting wines from every region of the world with the same passion and sense of adventure that she has lived her life. Olesya designed Olesya's Wine Bar to fulfil what she saw as a gap in the market – a place for people who want an informal, relaxed atmosphere but without sacrificing quality in food and with a large and superior choice of wine.
OLESYA'S WINE BAR IS BORN
Olesya's Wine Bar provides a relaxed atmosphere where clients can spend lazy hours quaffing wine with tapas or enjoy a light lunch or three course meal if they prefer.
Quality of the ingredients and food product is the paramount value in Olesya's kitchen. The wine list reflects Olesya's view that the choice of wine both by the glass and by the bottle should be vast, should cover all the world's regions and should cover the full price range from excellent value to those special wines for those special occasions.
LARGEST WINE LIST IN THE WORLD
Consequently Olesya's wine list is one of the best one will find anywhere in the world. It is a godsend for the wine connoisseur and a wonderful introduction for the beginner with helpful descriptions included for every wine on the list.
PROUD OF HER LIFE AT THE DACHA
Olesya's grandparent's still tend the crops in their dacha every summer. Olesya misses them sometimes but is proud to have brought 6,000km west with her the food values they taught her…quality ingredients, flavour, freshness and conviviality and to have married this with her passion for wine.
It is not for nothing that Olesya's Wine Bar's motto is "For lovers of wine and of life".
"FOR LOVERS OF WINE AND OF LIFE"
Great Food. Friendly Service. Loving Family
Address
(01) 672 – 4087
18 Exchequer Street
Dublin 2
Hours
Mon – Fri 12:30pm till late
Sat – Sun 11:ooam till late